The installation will be over 300 running feet of stitched columns 7′ high and configured as a nautilus scroll. In order to pitch it to potential museum venues and donors, architectural visualizer [our son!] Jeremy Kay generously modelled the digital animation. See it on YouTube.
The exhibition concept is a gift from Phillip Silver, one of Canada's premier stage designers and former Dean of Fine Arts at York University . . . and relative and friend of several TSBS stitchers. He drew on his experience of Simchat Torah (Celebration of Torah), a holiday in which Jews read the last verses of Deuteronomy, and then immediately the first verses of Genesis. In many congregations the Torah scroll is completely unwound and each person holds a portion of it. Phillip wanted people who visit our exhibition to feel similarly surrounded and in touch with the holy text.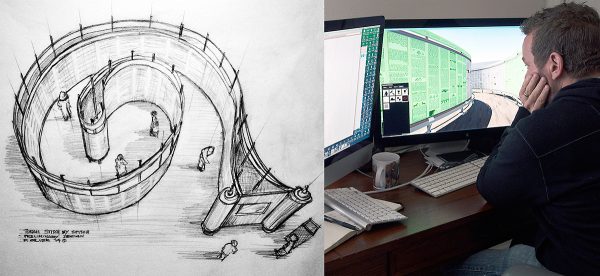 Our present challenges are:
1. to establish commitments from museums to exhibit our scroll, and
2. to secure funding to make this magnificent vision a reality.
Until these fundamentals are in place we are unable to build  this beautiful structure.