Each panel received is a remarkable gift that attests to the commitment of its stitcher. Each panel also fulfills the primary goal of the project: "to engage with the words of Torah". The spiritual and geographical diversity of participants are amazing. And it is especially heartening that so many people who have little or no prior experience with counted cross stitch have created outstanding pieces.
However, now that we are beginning to assemble the panels into columns, and then into the larger installation, we have identified issues that would not be significant problems if this were simply a personal project.
These issues fall into 3 categories:
➢ Timing
➢ Technical
➢ Troubling
We apologize that we are unable to answer inquiries about whether your panel will need adjustment or even be included in the exhibit until we are ready to assemble your verses. We outline these matters because we hope that stitchers still engaged in the process will take care, and those who think they may have erred will have the opportunity to purchase a new kit and stitch their verses again.

Timing
Despite the fact that each stitcher signed a contract to complete the work within 6 months, approximately 30% of panels have not been returned within 7 months from the time the kits were sent. By 9 months 20% are still missing, and at least half of those stitchers have not communicated their problem despite at least two attempts by their coach to contact them.  
Life happens; undertakings take longer than we anticipated; the task is daunting . . . we understand that, and empathize with your difficulties, some of which we are aware are life-threatening. We truly want to include all panels. But we require timely communication between stitchers and project team.
A volunteer coach will assigned to you 60-90 days after you receive your kit. If you need help sooner, email your request and we will be happy to assist. If you foresee a delay in completing your verses:
1. Contact your coach within 6 months of the date written at the top of your stitching guide.
2. Your coach will request a photo of what you have done so far and some particulars about why your progress is delayed. He/She will guide you.
3. You will receive an extension of up to 2 months. We really want you to have the joy of completing your panel in the way you envision it.
4. If you would like another stitcher to finish your panel:
(a) If you have completed fewer than 3 words, we will assign your verses to a new stitcher.
(b) If you have stitched 3 words or more we can arrange to have your work completed by one of the volunteers on our roster of  "Eager Adopters". We will send you the name and address of the adopter so that you can send your "orphan" directly to him/her. Please do not arrange a "private adoption" after the 6-month due date. Your name will still be listed in the catalogue as a stitcher.
Do not send your unfinished panel to Torah Stitch By Stitch unless requested.
Technical
The following are some of the technical problems we are seeing repeatedly, with suggestions of how to avoid or correct them before submitting your panel.
1. Rip in aida cloth
You will likely have to remove some of the stitches you have already done in order to clear the area for the repair. Do not use glue or tape or fusible fabric.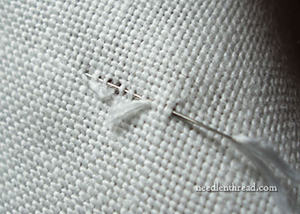 Method 1: patch
Cut a piece of fabric 1″ square. This can be aida cloth of the same count (#14) we are using or a piece of medium-weight cotton fabric. Position this behind the problem area and stitch through both layers for at least 5 stitches on all sides of the rip.
Method 2: darning
Pull a single thread of the canvas from the bottom edge and thread it onto a needle.
Starting about an inch away from the tear, right next to the torn canvas threads, stitch in the repair thread. Make sure that it follows the same over-under pattern as the broken thread. Stitch this thread in at least 1″ past the torn section in both directions.
2. Skewed or distorted cloth
Aida, like most woven fabric, is constructed so that the warp and weft threads intersect at right angles.
Skewing results from tight or uneven stitching tension that pulls the canvas threads on an angle or slant.
Avoid this by using a frame or hoop, or simply by easing the tension on your floss.
Most of the panels r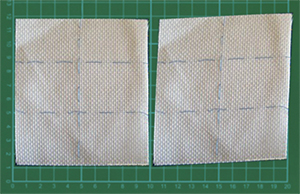 eceived have a small amount of skew, which we can adjust. However, a difference of more than 1 cm or 0.5″ between the top and bottom of your canvas may not be correctable.
3. Puckered cloth
Many of the panels received have a small amount of pucker, usually as a result of denser areas of stitching, such as borders and illuminations. A difference of more than .6 cm or 0.25″ between the worked and flat measurement of your canvas may not be correctable. Loosen your tension when completely filling lines and areas.
4. Text block too wide or irregular
The correct text block width is 168 stitches. We can accommodate panels with a variation of up to 2 stitches so long as the borders will fit within the 184 squares established as the assembly width.
5. Edges too narrow
We need at least 3 unstitched squares on each side of the 184 squares– including the overcast edges – to sew a seam. This applies also to upper and lower edges.
We became aware that some panels were not cut properly, and we will remediate that oversight.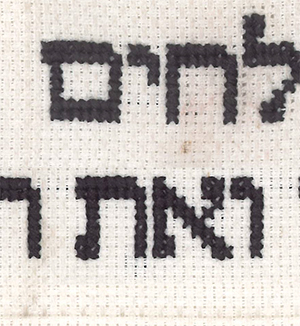 6. Another brand of Aida cloth has been substituted
Zweigart 14-count cotton colour #264 (ivory) was carefully chosen. If you really feel you need to redo your panel, you have 2 choices:
(a) Purchase another whole kit of your portion. We cannot sell you just the canvas.
(b) Purchase a piece of what we use from our distributor: needleworkersdelight.com/AidaCloth.html  You can get an 18″ x 24″ section for under $10.
Troubling
These issues are not strictly technical, but will affect the overall character of the exhibition assembly.
1. Soiling
Over 20% of the panels are moderately to severely soiled. The conservators at the Textile Museum of Canada kindly offered some advice for dealing with minor problems. The effectiveness of these measures and the time we can spend are limited.
The Textile Museum conservators recommended prompt action: gentle spot cleaning with dilute dish detergent applied with a Q-tip, then thorough rinsing the same way and lots of padding below and above the spot to absorb moisture.
Do not immerse your canvas in water; that process alters its texture and dimensions.
The best strategy is to avoid soiling
o Tea (especially) and coffee are permanent dyes.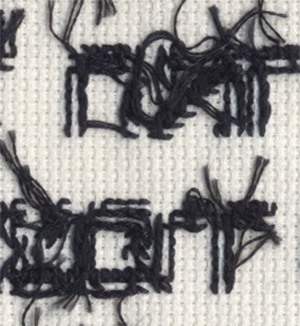 o Keep all food away from your stitching and work with clean hands.
o For guidelines or sketching use disappearing marker, basting stitches, or a paper pattern. Do not use pencil or ink
We will proceed to assemble panels with minor problems, but significant dirt or stains are not acceptable.
2. Embellishments deemed inappropriate
TSBS is an amazing achievement in "folk art", and we respect each person's creativity.
However we request that you not use:
o Your name or initials stitched on the front of your panel.
o Colours that stray significantly from the established palette.
o Materials (like beads) that will create unevenness when the assembly is rolled; or (like metalllic threads) that may not have stability and longevity.
3. Messy backsides
One picture is worth . . .
Remember to check the website often. The "Getting started" section contains a wealth of information and diagrams.