Here are more details about getting started: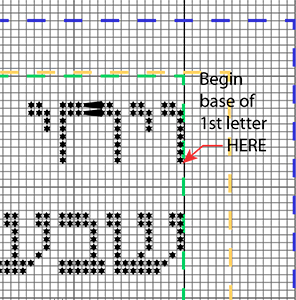 It is very important to position the first stitch correctly.
The blue dashed line is the edge of the canvas, including the squares that have been edge-stitched or serged.  Hebrew is written from right to left.
Count in 14 squares from the right edge and down 18 squares from the top.  This is the base of the first letter.
It is vital to establish the width of the text block as 168 squares; that is 12″ x 14 squares/inch. The project has been designed so that when the panels are assembled the areas of text will align and form columns as they do in a Torah scroll. We need several rows of canvas at the top and sides for seams.
Transferring the design
With counted cross-stitch one square on the guide corresponds to one square on the aida cloth.  There are 14 squares to an inch on the material for this project, and the printed guide is slightly smaller scale in order to fit on the paper.
You may use a disappearing fabric marker (available from most sewing shops) to mark the letters on to the fabric to get you started and comfortable with the letterforms, but be aware that these markers often leave a slight shadow.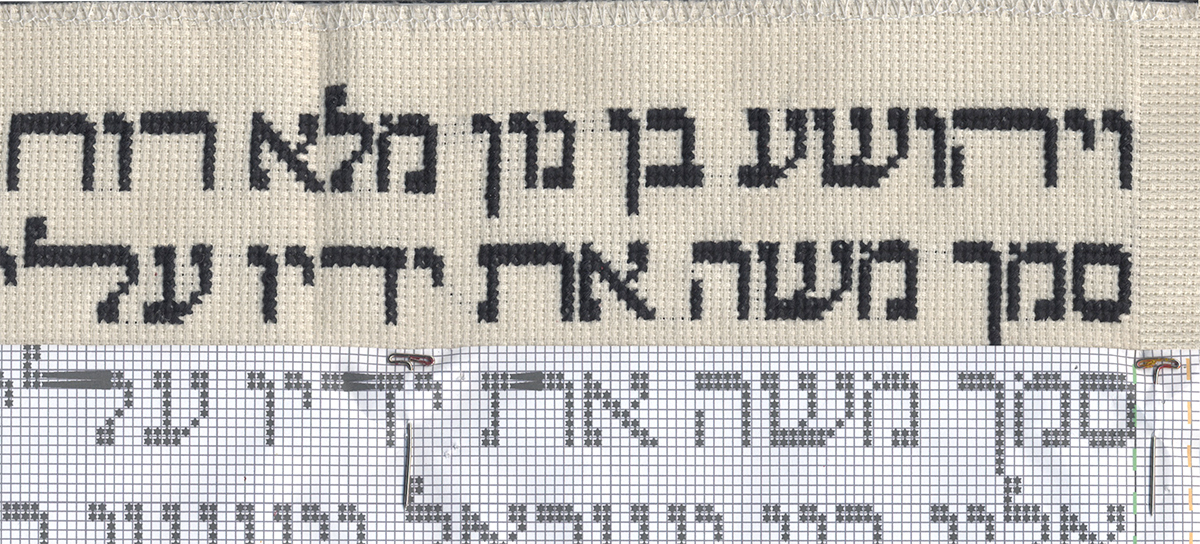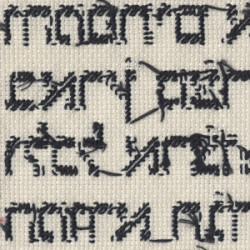 Back side of work
You can carry the thread from one word to the next if the distance is less than 2 cm/.75 in. Leave a bit of slack in the thread.
Like a busy day with lots of errands, try to map out a route for your stitching path that has as few back-tracks as possible.
"Stretch marks" within letters on the paper template
These indicate places where the width of some letters has been adjusted in order to align both edges of the text, and could more accurately be called "stretch marks".
A sofer is allowed to extend or contract 7 specific letters (as indicated by the turquoise squares on your printout) to justify the margins.
In the first line of the example below, there was no need to adjust any letters; in the second line several letters have been extended in varying lengths.
Treat each square of a "blob" as a regular cross-stitch.