"Stitchers: Tapestry of Spirit" is playing at several film festivals:
Vancouver [Canada] Jewish Film Festival – Friday November 3 and Monday November 6, 2017 – Award of Merit 2017 Best Short Awards
Warsaw [Poland] Shorts Film Festival – November 24–30, 2017
San Diego [California] Short Film Festival – February 7-18, 2018  •  Screening: Monday February 12 at 2pm (part of the Joyce Forum – A Day of Short Films – Lenses After Lunch section)
Atlanta [Georgia] Jewish Film Festival – January 24-February 15, 2018  •  Screenings: Friday January 26 at 2:10pm and Sunday January 28 at 1:30pm
Jewish Women's Film Festival [New York] – Sunday March 4, 2018
Santa Barbara Jewish Film Festival – March 15-19, 2018  •  sbjewishfilmfestival.org
(tentatively: Toronto Jewish Film Festival [Canada] – May 3-13, 2018)
Bookmark this page for schedule updates.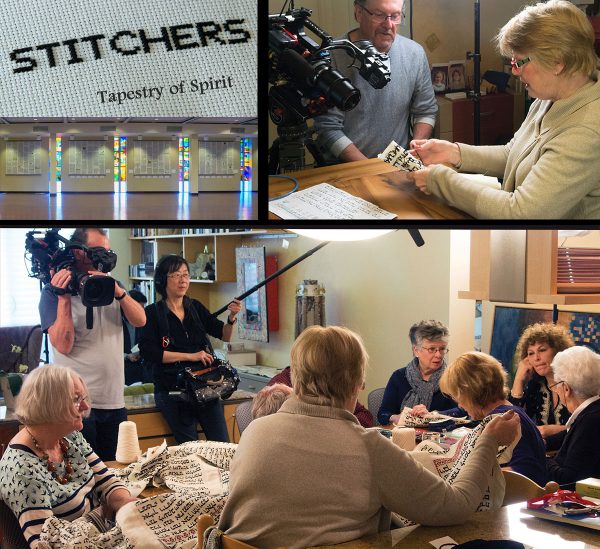 "Stitchers: Tapestry of Spirit" is a thoughtful, comprehensive and engaging 15-minute documentary film about the project, financed by a grant from Canadian broadcaster Bravo and produced by 90th Parallel.  Director Tassie Notar shot the film at locations in Toronto, London and Valencia. Much attention was paid to fine production detailing, including an original musical score.
After its year-long festival run, the film will be available to show to you and at our exhibition venues.